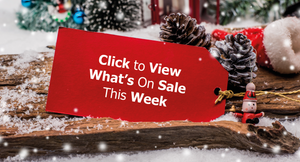 NEW, HOTBIN Mega for Batch Composting
HOTBIN Composts ALL YEAR ROUND
Composts More Types of Food Waste
Hot & Steamy Composts Faster 30-90 Days
No Turning or Tumbling
Raise Your Composter with HOTBIN Plinths
FREE Shipping to 48 Contiguous States
Quick and Easy HOTBIN Composting
Dramatically reduce the amount of waste your household sends to landfills and recycle more of your unavoidable food and yard waste into homemade organic compost.
If you are looking for an easy way to start composting or a more efficient way?
The HOTBIN composter may be for you!
HOTBIN has Won Various Awards for its Performance:
• Grow Your Own Award: Best New Product 2012
• Great British Growing Awards: Best New Veg Growing Product – 3rd Place 2015• Great British Growing Awards: Most Effective Composting Product – Bronze 2016
• Great Britain Growing Awards: Best Compost Making Product 2018
• RHS Chelsea Flower Show: Product of the Year 2019
Testimonials
"I am thrilled it's been so easy to do this, and I will keep learning to hopefully get beautiful black compost in spring".
 

Jennifer Chu, New York
HOTBIN Works All Year Round
Steaming away at up to 140°F HOTBIN breaks down your waste 32 times faster than a cold compost bin, meaning you can harvest a mulch compost in 30 days and get rich general purpose compost after 90 days.
The award winning HOTBIN is super insulated, enabling the temperature to increase naturally over time through the addition of fresh waste, shredded paper and woodchips, the bacterial process does the rest. No plug-in heat source needed!
HOTBIN composting allows you to compost all food waste including cooked food, any leftover plate scraps, small bones and even perennial weed seeds and pet waste, as well as all the kitchen and garden waste you would normally cold compost.
Now available in 2 sizes, our 52 and 26 Gallon capacity bins are compact sealed units, that occupy roughly the same space as a regular waste container.
Have you been looking for an easy way to start composting or a more efficient way to tackle your existing heaps? If yes,then you are in the right place.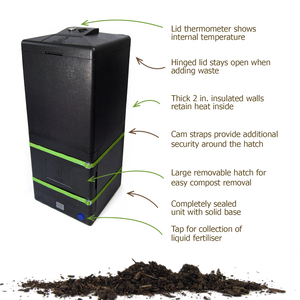 Subscribe to our newsletter
Promotions, new products and sales. Directly to your inbox.